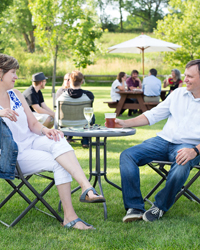 Dare to Pair July 28 French Connections
When
Occurs on Saturday July 28 2018
Approximate running time: 2 hours
Venue
Performance Notes
×
before Danel String Quartet & Marc-André Hamelin French Connections – Wine tasting, chocolate (chacutiere) & meet the artists Saturday, July 28 12 noon to 1 pm
Explore the French Connection as we pair French wines (chosen by LCBO Product Consultant, Jennifer Bennett,) with delicious dark Belgian chocolate created by chocolate maker, Claude Hardenne from Harden & Huyse Chocolates.
Wine Tasting, Chocolate (Chacutiere) & Meet the Artists: $40 FOOD ONLY: $15 Prices includes tax and gratuityJennifer Bennett is a product consultant with the LCBO and has been with the board for 13 years. She has a Level 2 in Wine and Spirits from the Independent Wine Education Guild and have recently completed their Ontario Brave New Wines course to become an Ontario wine specialist.. Jennifer has a Masters of Science in Education, is a wine enthusiast and feels extremely fortunate that her job allows her to pursue my passion for wine.
Claude Hardenne is managing director of Harden & Huyse. Harden & Huyse Chocolates' family-owned-and-operated manufacturing plant follows the old methods of chocolate making, as developed over generations in Belgium. This time-consuming hand-making process utilizes European equipment, and is still followed by premier Belgian firms today. Only the best ingredients are used. Most supplies, from the raw chocolate products to the fruit purees, are frequently imported from Belgium, France and other regions of Europe. Harden & Huyse chocolates are made in Saskatoon but have an outlet in Cobourg, Ontario.