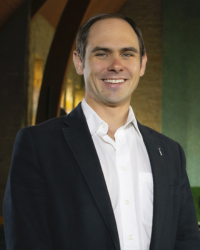 Andrew Elmhirst at The Schoolhouse
When
Occurs on Sunday October 29 2023
Approximate running time: 1 hour
Venue
Concert Notes
×
Andrew Elmhirst was born and raised in the small town of Campbellford, Ontario, where he began piano lessons with Gearold Young. At Campbellford District High School Andy participated in jazz and concert bands under the direction of Dave Noble. Upon graduation he studied music with Andrew Harbridge, earning an Associate Diploma in piano performance from Conservatory Canada. After obtaining a Bachelor's Degree in Health Sciences from the University of Western Ontario, Andy moved to Hamilton and began organ lessons with Paul Grimwood and Stillman Matheson while studying composition with Roland Packer. In 2017, Andy was awarded the title of Fellow of the Royal Canadian College of Organists.
Andy has been the Director of Music at St. Christopher's Anglican Church in Burlington for thirteen years where his diverse musical abilities are well-suited to the parish's musical identity. He is the Director of the Sackville Hill Seniors Choir and maintains an active teaching, accompanying and performing schedule.
Andy lives in Hamilton with his partner Pam and their three boys Henry, Simon, and Luke. In addition to music and family life, he enjoys cycling and playing Fortnite.