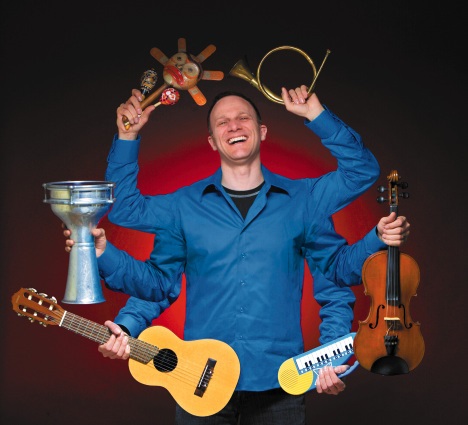 Kids Concert - Chris McKhool's Fiddlefire!
When
Occurs on Sunday October 27 2019
Approximate running time: 2 hours
Venue
Performance Notes
×
Join the family fun at the Clock Tower! Chris McKhool and his musical friends from Sultans of String get kids and families clapping, dancing and singing songs. Kids and their parents scat-sing, become a rhythm section and join McKhool on stage to play rare percussion instruments from around the globe! Kids will be introduced to several musical styles, including rumba flamenca, gypsy-jazz, blues, classical, funk, world beat, and east coast fiddling.
Great for families and especially ages 4–10.
Come in costume! Hailed as a "Children's musical star" (National Post), Chris McKhool is one of Canada's greatest musicians for young audiences. McKhool has reached over 1 million children live in concert, winning 3 USA Parents' Choice Awards, 4 Canadian Folk Music Awards and 4 JUNO Award nominations. He also won Best Children's Entertainer at the Festivals & Events Ontario Awards, a Green Toronto Award of Excellence, an Environment Canada Action Award and the Queen's Diamond Jubilee Medal for his commitment to young audiences, community betterment, and multiculturalism. A champion of environmental issues, Chris also created the world's largest bicycle bell orchestra at Yonge-Dundas Square in Toronto with over 800 bell ringers! "A children's superstar!" Brent Bambury, CBC "Chris McKhool and the boys are fantastic! They can play my Bar Mitzvah!" Bob Ezrin, Producer (Pink Floyd, Kiss) "I was impressed by his musical virtuosity and personal appeal. His songs succeed!" Ernie Coombs, Mr. Dressup