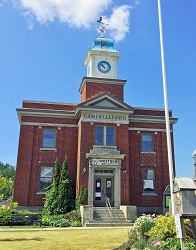 Houseconcert:Emily Gimble/Michael Archer
When
Occurs on Thursday June 13 2019
Approximate running time: 2 hours
Venue
Performance Notes
×
"Texas Swing, Old Swing, and originals for piano and upright bass with Emily Gimble and Michael Archer
BIO: Recently named 2020's Texas State Musician, Emily Gimble is the youngest ever appointed by the state. Impressive and deserved. Emily started her career as a child singing and playing piano with her Grandfather and Country Music Hall of Fame member Johnny Gimble. He is widely considered one of the finest fiddlers and mandolin players for Bob Wills and The Texas Playboys and was a staple later on in the Nashville Recording Scene appearing on records by Willie Nelson, Merle Haggard, George Strait and many many more. Emily, along with Johnny and her father Dick Gimble toured across America as a Western Swing outfit called "The Gimbles" in her teenage years as she branched out into Jazz, Blues, Soul, and many other kinds of music. Emily then worked and toured with several different artists including Amy Helm, Hayes Carll, Warren Hood and others before joining Grammy Award Winners Asleep at the Wheel. During this time she also performed on Austin City Limits twice and recorded a duet with Merle Haggard as well as backed up Robert Plant at the Austin Music Awards. She spent two years in Asleep at The Wheel before deciding to go solo. Her debut Solo album Certain Kinda produced by Andrew Trube of Greyhounds was released in 2016.
Emily has represented Texas as a musical ambassador with one of her projects Marshall Ford Swing Band in China at the 2010 World's Fair Expo in Shanghai and along the way Emily has been awarded 4 Austin Music Awards as she continues to work under her own name and with many other projects in Texas and beyond.
Welcome to our home! Get up-close and personal with an exciting range of artists right in the "living room" of our home at the Clock Tower Cultural Centre.Westben hosts evenings exploring Americana, Folk, Bluegrass and more. Ken Tizzard curates the series of acoustic performances which draw on the intimacy of the house concert. (cash bar).