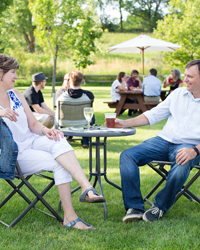 Dare to Pair: Opera Echoes
When
Occurs on Saturday July 27 2019
Approximate running time: 2 hours
Venue
Performance Notes
×
Before Saturday Afternoon at the Opera
OPERA ECHOES
Saturday, July 27, 11:30 am to 1:15 pm
TICKETS: $60 + tax (includes gratuity)
WINE-TASTING: wine expert Duarte da Silva (Executive Director of the Prince Edward County Wine Growers Association)
LUNCH: Chef Ravi Anandappa (Antonia's Bistro)
HOST: Michael Newnham (Music Director, Peterborough Symphony Orchestra)
MENU:
(Mozart) Wild Mushroom and Caramelized Onion Puffs
(Verdi) Bocconcini and Heirloom Tomatoes with Extra Virgin Olive Oil and Balsamic Glaze
(Bizet) Beef Bourguignon
(Beethoven) German Chocolate Cake with Passion Fruit and Vanilla Sauce
How does opera fit with the Northumberland countryside? A local symphony conductor should know! Peterborough Symphony conductor Michael Newnham is on hand to consider the possibilities, as wine expert Duarte da Silva (Executive Director of the Prince Edward County Wine Growers Association) and chef Ravi Anandappa (Antonia's Bistro) offer wine-tasting and lunch.